With Barclaycard Arrival Plus rewards, you earn 2 points for every single dollar you spend. You can then use these rewards miles to help pay foreligible travel purchases, such as airfare, hotels and cruises, through statement credits. And you can start redeeming your awesome travel rewards once you have earned 2,500 miles = $25.00 in travel rewards via a statement credit.
Earning and Redeeming
Let's assume you have spent $10,000 with your Barclaycard Arrival credit card within the last 120 days.That means you have earned 20,000 redeemable miles to offset your travel purchases on your next credit card statement. Each reward mile is equal to 1 cent in travel rewards credit. So, for example, if you charged a $125 hotel stay to your Barclaycard Arrival credit card, you can log in to your account and apply 12,500 of your rewards points toward that purchase to receive a $125 statement credit for that purchase. You would pay nothing out of pocket for the hotel stay, and you'll even earn an additional 10% in bonus rewards miles (1,250 miles) leaving you with 8,750 miles to apply towards future travel expenses.
Barclaycard Bank makes the process simple and quick. Your redeemable purchases are automatically categorized online. And your redemption values are calculated for you. Just select the amount you wish to redeem. It's really that easy!
Step by Step
This YouTube video provides step by step instructions for redeeming your Barclaycard Arrival Miles for statement credits.
Log in to your account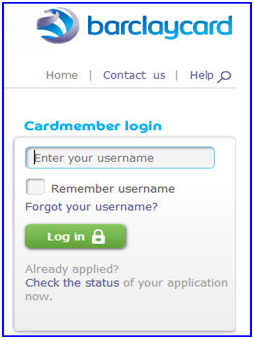 Click Manage Rewards
>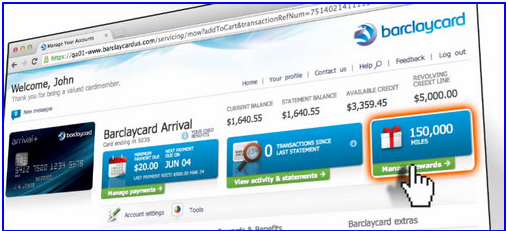 Click on Redeem now under Travel statement credits.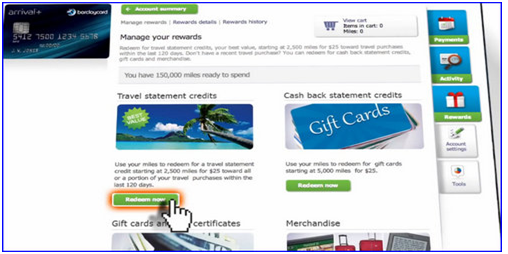 The miles you have earned and the travel purchases you have made that are eligible for travel statement credits are easily identifiable.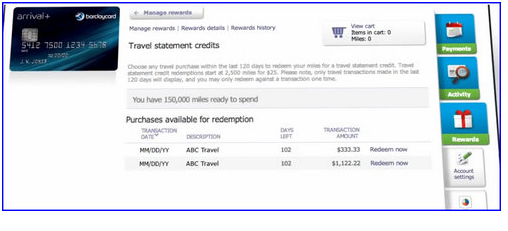 Select the purchase to which you wish to apply your statement credit and click on Redeem now.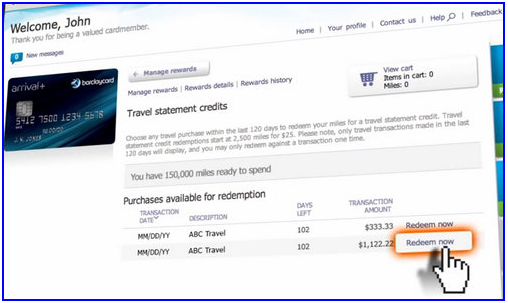 Select the amount you wish to redeem with a statement credit.
After you've made your selection, click the checkout button.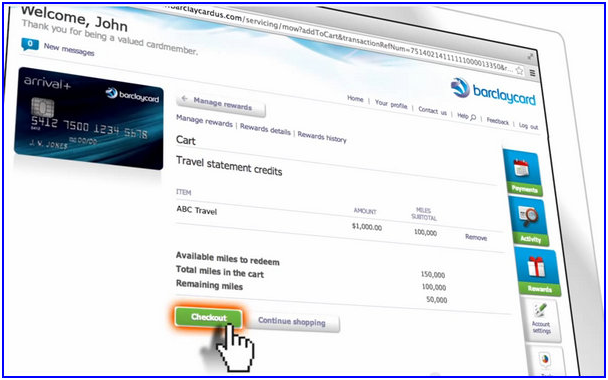 Check your transaction information for accuracy before selecting the Place your order button.
In this example, the credit card user applied 100,000 miles against his eligible travel purchase of $1,122.22, thereby receiving a $1,000 statement credit. He will only pay $122.22 for that travel purchase!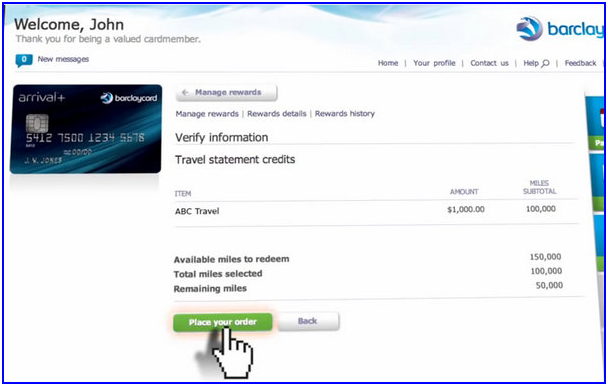 As an added bonus, this transaction earns you even more Arrival Miles! 10% of the 100,000 mile purchase equals an additional 10,000 miles. Our credit card holder now has 60,000 miles left for future eligible travel purchase redemption.